I know that I'm supposed to optimize this blog post to pack as much relevant information as I can in the first screen (above the fold) but I choose to use it for this incredibly uncomfortable gif instead.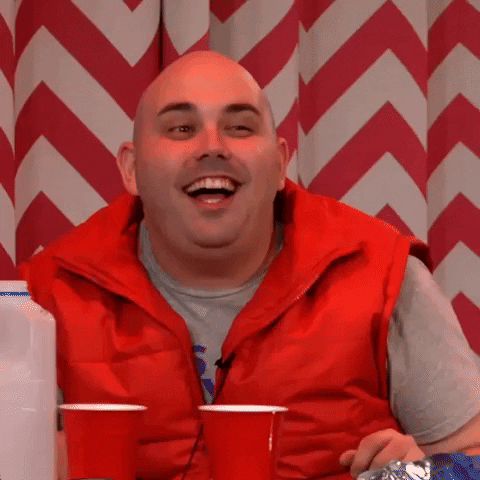 Three years ago, I made an expert level brag: I confidently declared in a room full of strangers that I was not wearing any pants. I made a friend that day because no pants is the best pants. Three years later, I get invited to attend Google Dance Zurich. Do I plan on wearing pants while attending? No. Of course not. No pants is the best pants.
However, I would like to say that I am very thankful to be invited and look forward to meeting new people and learning new things. Which means that I am hoping to maybe meet you! Not sure if you want to attend?
Let me hype this up for you.
Google Dance Zurich has everything
A logo made of cheese
They have a logo made of cheese. Let me repeat, they have a logo made of cheese.
A refreshing late summer cocktail party
Those are not my words, they are stolen straight from the official communication.
Incidentally, that is also how I would describe myself right now: Myriam is like a refreshing late summer cocktail party. I have been described in the past as entropy Mary (a clever word play on Typhoid Mary and the concept of entropy that I admire to this day).
What is Google Dance?
Well, I have no clue really. Google doesn't really help either because it refers to an old term.
So what is the Google Dance if you are an SEO? I am sure many people know this but I didn't know…
It's an opportunity for search optimization specialists to come and exchange with others interested in SEO along with Google engineers. If you happen to leave near or in the Zurich area, I highly recommend you dust off your confidence and strut on over to sign up to attend. I suggest you read up more If you want to know what the Google Dance is.
According to Answer The Public, there are plenty of things that can be done with a Google Dance:
You can Google me dance
How to make Google dance the Harlem Shake
How long does Google Dance last
Google Dance with my father
Google Dance in SEO
I picked five and I'll try to address these all important questions. Let's get started!
1. You can Google me dance
No, you cannot. You absolutely cannot google me dance. However, there does exist a long lost footage of a Google Engineer strutting down a hallway dressed as a unicorn. This is the closest I can be to answering the query: "you can Google me dance".
2. How to make Google dance the Harlem Shake
No clue but, let me google that for you. There is video evidence available on Youtube that you can indeed make Google dance the Harlem Shake. Can we take a moment to appreciate this person's bookmarks? Did he or she ever get that "Cop Job"? What about their spirit animals and Papa Louie 2? What happened to original Papa Louie?
3. How long does Google Dance last
It lasts a few hours in Zurich. This much I know!
The page says: Sept. 21, 2018 16:00 – 21:00
5 hours of non-stop refreshing late summer cocktails, awesome search optimization tips and a tiny wiener dog named Fatback (Moscing in Hungarian):
4. Google Dance with my father
You aren't looking for Google are you now? You are looking for Luther Vandross. Smooth R&B and search specialists can mix…but in this case, you should have left Google out of this query!
5. Google Dance in SEO
OK, now we're talking! So, this is my first Google Dance ever as an SEO specialist. So if all goes well, my claim to fame can be to be one of the original Zurich Google Dancers!
Based on the queries, I can expect to show up, meet other SEO experts, record a video of us dancing the Harlem Shake to a smooth Luther Vandross number.
See you there!
P.S. For those of you that skipped all the way to the bottom for the TL;DR: head on over to Google to register!